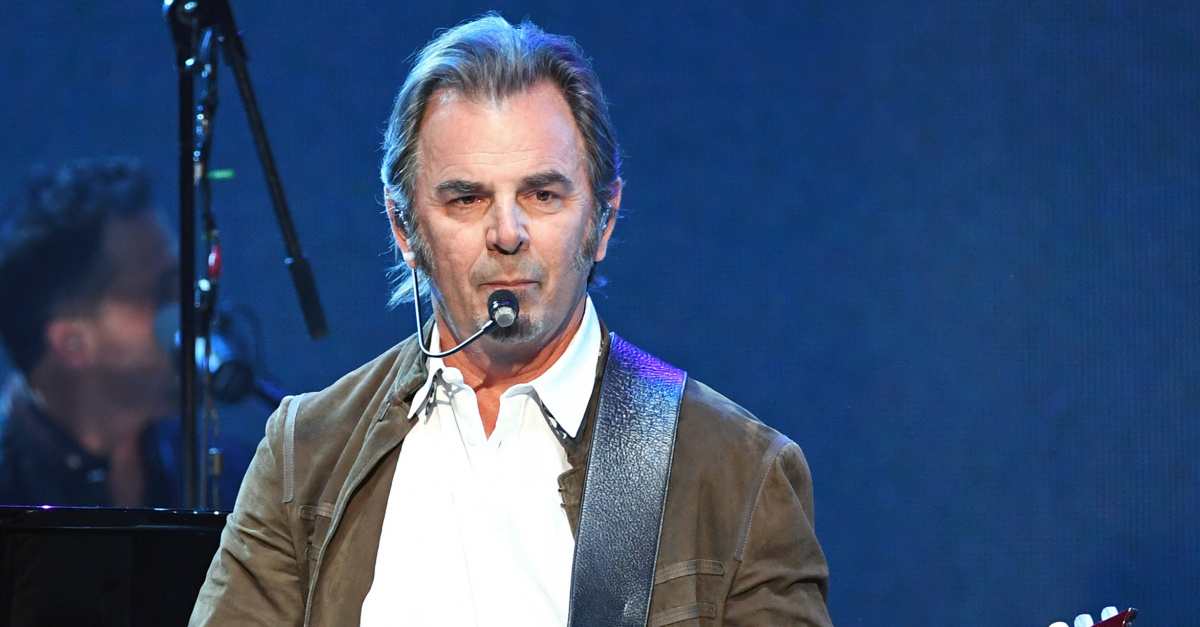 Journey's Jonathan Cain says in a new interview that his most popular songs, including Faithfully and Open Arms, were inspired by God and, in hindsight, reference God.
A Christian, Cain is credited with writing Don't Stop Believin' (1981), Faithfully, (1983), Open Arms (1981) and Separate Ways (Worlds Apart) (1983) – songs that remain popular today, some four decades after their release. 
Cain says he didn't realize until after his father's death in 1987 that God was behind the songs. 
"When my father passed, I was devastated," Cain said in a new video for I Am Second, a non-profit organization that spotlights well-known Christians. "I didn't think I would be able to carry on. I always wrote for him. I said everything I did, every note I play, I can trace back to my father.
"And then God – His voice came to me [as] I sat weeping on the piano. [God] said, 'No, Jon, it's been me. It's me, Jon. It's always been Me through him. I am the source. I am where it comes from Jon. You've pleased me.' And I went, 'Oh, man. How did I miss that?'"
Several of the songs have a double meaning, Cain said.
"I'm forever yours, Lord, faithfully," he said. 
"Lord, I come to you with open arms," he said, referencing the 1981 song. 
"It opened my eyes to like, the transcendence of [the] Father reaching down to his son through his natural father," he said.
Meanwhile, Cain also discusses his childhood and teen years in the new video. He credits God for protecting him during two near-death events as a child – first when he nearly drowned and later when he survived a 1958 Catholic school fire in Chicago that killed 92 students and three nuns.  
His father got him involved in music. 
"He said, 'You know, son, you were saved for something greater than that [and] that must be music,'" Cain said. 
"… My father was the one that gave me the advice, don't stop believing. My dog got hit by a car. It was tragic. And I needed money to pay for the vet bill. And I had to call him, and I hated asking him for money. But I said, 'Dad, I just wondered, should I give up on this music dream and come home to Chicago and forget about it?' And there was a silence for a minute. And then he said, 'Jon, this is your vision. No, you're not coming home – stay the course. Don't stop believing.' And I wrote it down in this little lyric book that I had when I was writing lyrics.
"And it wasn't until five years later, [bandmate] Steve Perry looked at me and said, 'You got another song?' And I said, 'Well, let me look at my book.' And sure enough, there's what Dad had said."
Cain believes the song was critical in Journey's induction into the Rock and Roll Hall of Fame.
Today, Cain leads music at his church.
"I never thought I'd get back in church and sing, but the music started pouring out of me," Cain said. "Now I understand that my worship music is my way of being grateful. … I think that we all need to know that it's not too late. … He's a good God."
Photo courtesy: ©Getty Images/Ethan Miller/Staff
Video courtesy: ©I Am Second
---
Michael Foust has covered the intersection of faith and news for 20 years. His stories have appeared in Baptist Press, Christianity Today, The Christian Post, the Leaf-Chronicle, the Toronto Star and the Knoxville News-Sentinel.