President Joe Biden has lashed out at former President Donald Trump and "MAGA Republicans" in a speech described as a "shocking" rebuke to his predecessor.
Biden went on the offensive during an address outside Philadelphia's Independence Hall on Thursday night. The president said that the country was at an "inflection point" and urged Republicans to reject Trump and associated "extreme MAGA ideology."
"We must be honest with each other and with ourselves," Biden said. "Too much of what's happening in our country today is not normal. Donald Trump and the MAGA Republicans represent an extremism that threatens the very foundations of our republic."
Biden said that "not even a majority of Republicans are MAGA Republicans," but argued that the country was under threat due to Trump and his followers embracing an "extreme ideology" and controlling the Republican Party.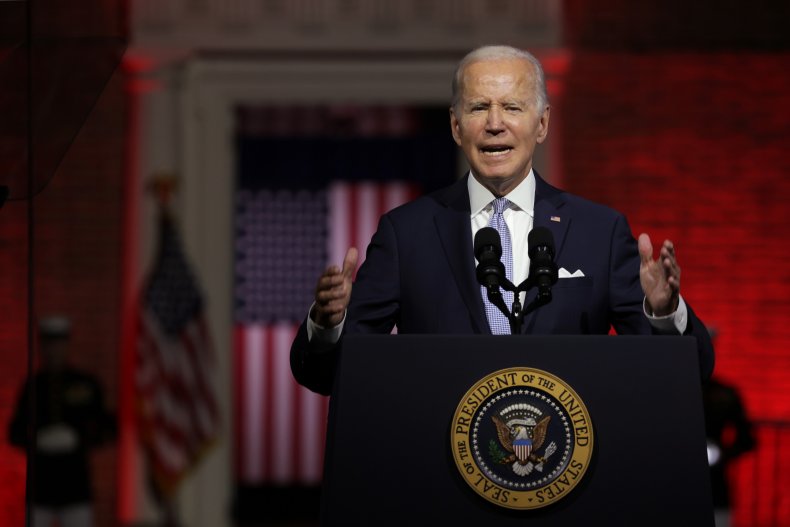 "MAGA Republicans do not respect the Constitution," he added. "They do not believe in the rule of law. They did not recognize the will of the people. They refuse to accept the results of a free election and they're working right now… to undermine democracy itself."
"MAGA forces are determined to take this country backward… to an America where there is no right to choose, no right to privacy, no right to contraception, no right to marry who you love," he continued. "They promote authoritarian leaders and they fan the flames of political violence."
The president went on to quote House January 6 Committee testimony from Republican J. Michael Luttig, a former federal judge, who said during a hearing in June that "Donald Trump and his allies and supporters are a clear and present danger to American democracy."
Biden maintained that "Democracy cannot survive when one side believes there are only two outcomes to the election: ether they win, or they were cheated," before adding "that's where the MAGA Republicans are today."
Reactions to Biden's speech were mixed and predictably differed depending on political affiliation. Most agreed that the speech was unprecedented for its attack on the former president and his current supporters and for showcasing a more aggressive side of Biden.
"@POTUS's speech is a shocking moment in American history," tweeted attorney David Leopold, a former member of the Biden-Harris presidential transition team. "Never before has an American president had to call out his immediate predecessor & his supporters as a clear and present danger to American democracy."
"@POTUS rightly didn't pull any punches tonight," columnist Tom Eblen tweeted. "He called Trump and MAGA Republicans a threat to democracy, freedom and the rule of law, which they are. The facts are clear on this."
"Dark Brandon standing before Independence Hall and calling out a Clear and Present Danger to democracy," tweeted lawyer David Lurie. "It was dramatic; but it was also factual."
"The speech Pres Biden just gave is one of the most extraordinary orations ever by a US President," Democratic Representative Bill Pascrell Jr. of New Jersey tweeted. "Every word. The republican party today is an unprecedented threat to our democracy and all of us need to see it, say it, and fight it."
"Mr. Unity just gave the most divisive presidential speech I have ever seen!" tweeted former Trump White House Press Secretary Kayleigh McEnany.
"Biden says MAGA folks condone 'political violence,'" former Fox News host Bill O'Reilly tweeted. "Wow, demonizing the opposition. Might be 'extreme'."
"Joe Biden's address in Philadelphia tonight is one of the most menacing, bitter, angry and divisive speeches in modern US political history," tweeted Nile Gardiner, a British conservative commentator and foreign policy analyst. "Hard to believe that a US president can stoop to this level, condemning tens of millions of Americans as enemies and a threat to democracy."
Trump had not yet publicly weighed in on Biden's speech at the time of publication.
Newsweek reached out to Trump's office for comment.