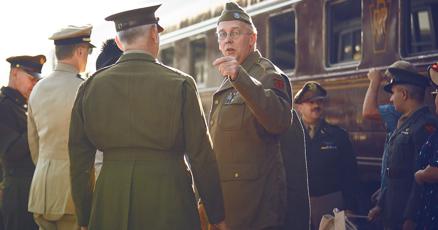 ANGOLA — American History Fest in Steuben County is growing into Pleasant Lake in a big way this weekend.
In addition to the predominantly Civil War-themed activities going on in Angola at Commons Park, World War II will be the flavor at Pleasant Lake, particularly with historic train tours scheduled Saturday and Sunday.
"We're going to kind of take over the town," joked Kelly Lynch, vice president of the Fort Wayne Railroad Historical Society, which is operating its historic train on the Indiana Northeastern Railroad tracks this weekend.
In Pleasant Lake, the old depot will be put in action to accommodate train rides to and from Angola. The rides will also be stopping at The Depot at Trine University.
Like many of the excursions that have taken place this summer, this weekend will be the American History Train.
"The American History Train will take guests on a trip back to the 1940s for a living history experience in Pleasant Lake with WWII reenactors, live music, classic automobiles, food vendors and more during a layover that will last approximately 45 minutes," said information from Fort Wayne Railroad Historical Society.
People can stay in Pleasant Lake for the festivities there or they can do the same in Angola, Lynch said.
There will be a shuttle bus running between The Depot at Trine and downtown Angola and Commons Park.
"Passengers can stay longer to take the next train if so desired. The total event time from departure, layover and return trip will be approximately 90 minutes," the Railroad Historical Society said.
Trains will depart three-to-five times daily and will feature steam locomotive No. 765. Passengers are encouraged, but not required, to dress appropriately for the occasion. People are also encouraged to dress in period dress, from the 1940s.
Train departures and arrivals will run from 9 a.m. to 7:30 p.m. on Saturday and from 11:15 a.m. to 5:30 p.m. on Sunday.
In Pleasant Lake, much of the activity will revolve around the Steuben Township Park and the depot.
For the event, Main Street will be closed between C.R. 150W and Southwest Railroad Street. A detour and signs will be in place.
In addition to all of the activities, the Pleasant Lake History Museum will be open to visitors all day on Saturday and from 11 a.m. until the last train leaves on Sunday.