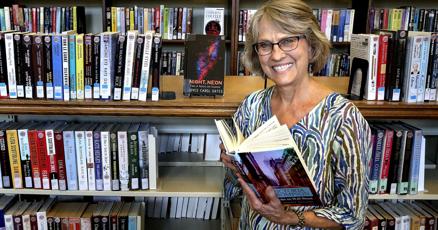 When Barbara Dickinson came to Handley Regional Library in 2001, she was hired as an archives assistant. It was a great fit for Dickinson, who has an American history degree from Washington State University.
"I got to play detective and solve things that happened 200 years ago," she said.
Dickinson was new to Virginia, having moved here from Eugene, Oregon, with her husband.
After more than 20 years with the library system — almost 12 of those years as executive director of the Friends of Handley Regional Library — the 74-year-old is retiring from the library and moving back to the Pacific Northwest to be close to her son.
"It's bittersweet," said Dickinson, whose husband passed away several years ago. "I've loved this job."
The Friends are the nonprofit organization that supports the library and its staff by planning fundraising events, including the popular used book sales that are held three times a year at Bowman Library.
The group also plans events for the community such as A Little Noon Music concerts and bus trips to Washington, D.C., to visit the National Archives as well as the National Book Festival each year.
"We focused on programs that were of interest to the adults," Dickinson said.
Taking over for Dickinson will be Gina Byrd, who started with the library three years ago as a children's services assistant.
"It's really special to be able to serve the library in a new way," Byrd said. "It'll be great to get out there in the community and work with volunteers."
Although the Friends are a nonprofit group, the executive director is still a library employee.
"We use [the organization] to raise funds and recruit community support for things that support the library system," Dickinson said.
Proceeds have diminished since the start of the COVID-19 pandemic, she said, but before 2020, the Friends were pulling in about $60,000 a year to help support the library.
The book sales have been one of Dickinson's favorite parts of the job, and she said she's enjoyed watching community members find new and interesting reads each time.
"At the book sale, it's very hectic but it's just a joy to help people find the books they're looking for," she said.
One memorable day was at this year's April sale, when three little kids came in with a baggie containing eight quarters.
"They had enough money to buy four books," she said, recalling how they negotiated among themselves which four books to buy.
It was a great lesson in not only reading but also counting, budgeting and compromise, she said.
Another favorite story of hers was when a local man gave a presentation about President Abraham Lincoln and how the Pinkerton detective agency had protected the president from an assassination plot. Though gloomy weather on the day of the man's presentation prevented some people from attending, the presenter told Dickinson afterward that it had been his best night ever because his children had been there to hear what he had been working on.
Overall, Dickinson is grateful to have been part of the community and said she'll miss working in Winchester.
"People are willing to give so much to the public library system," she said.
But the small Oregon town she'll be moving to has a vibe that she's looking forward to experiencing as well. There's a riverwalk, a downtown area and a public library where she might decide to volunteer.
Dickinson's last day was Wednesday and then Byrd takes over.
"We're going to miss Barbara," Byrd said. "She's made the Friends what it is today."