A family of four who manage a community pasture in rural Canada have found happiness in the simplicity of everyday life. Their belief is to live wholeheartedly in every aspect of life, through the good and the bad, and to see God's hand through it all.
Canadian natives Vanessa and Levi Ould, who are in their late 20s, currently live in west central Saskatchewan with their children: Jeremiah, 4, and Hadley, 2. They work on the community pasture for six months of the year but live there for the whole year.
"The Lord opened this door and we are so grateful," Vanessa told The Epoch Times.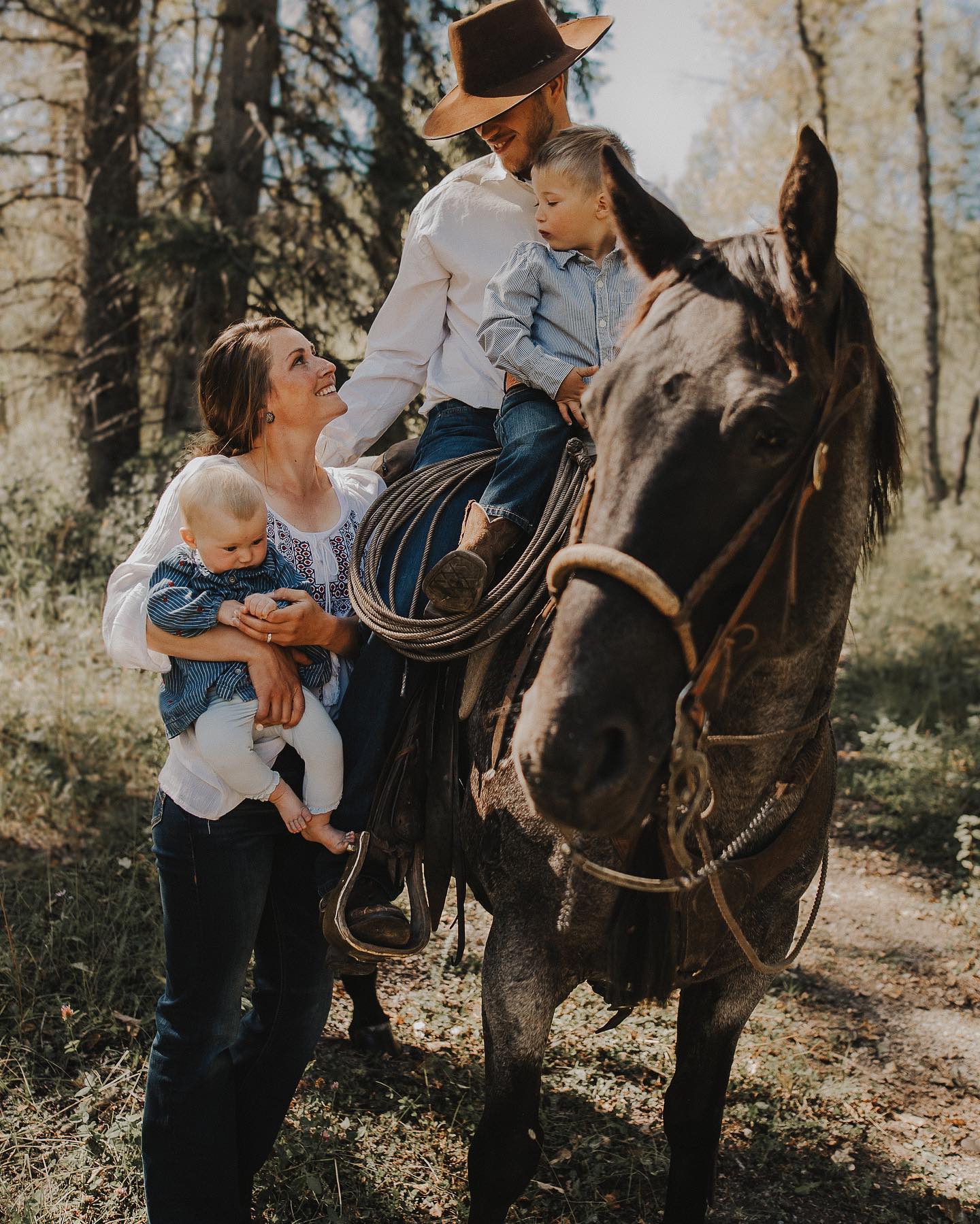 Early Life
A horse lover for as long as she can remember, Vanessa spent her childhood and teen years riding horses and taking lessons. She also competed in shows but had never ranched or even ridden the western style of horseback riding.
What inspired her to become a true "cowgirl" was moving to Alberta in 2012 to manage a horse program for a year-round kids' camp.
"I started helping neighbors with their cattle, learning from friends who came to help at the camp, and started being drawn to that way of life," Vanessa said. "I … loved the aspect of the lifestyle that came with cowboying. That it was more than just something to do on the side but a way to bring horses into every aspect of your life."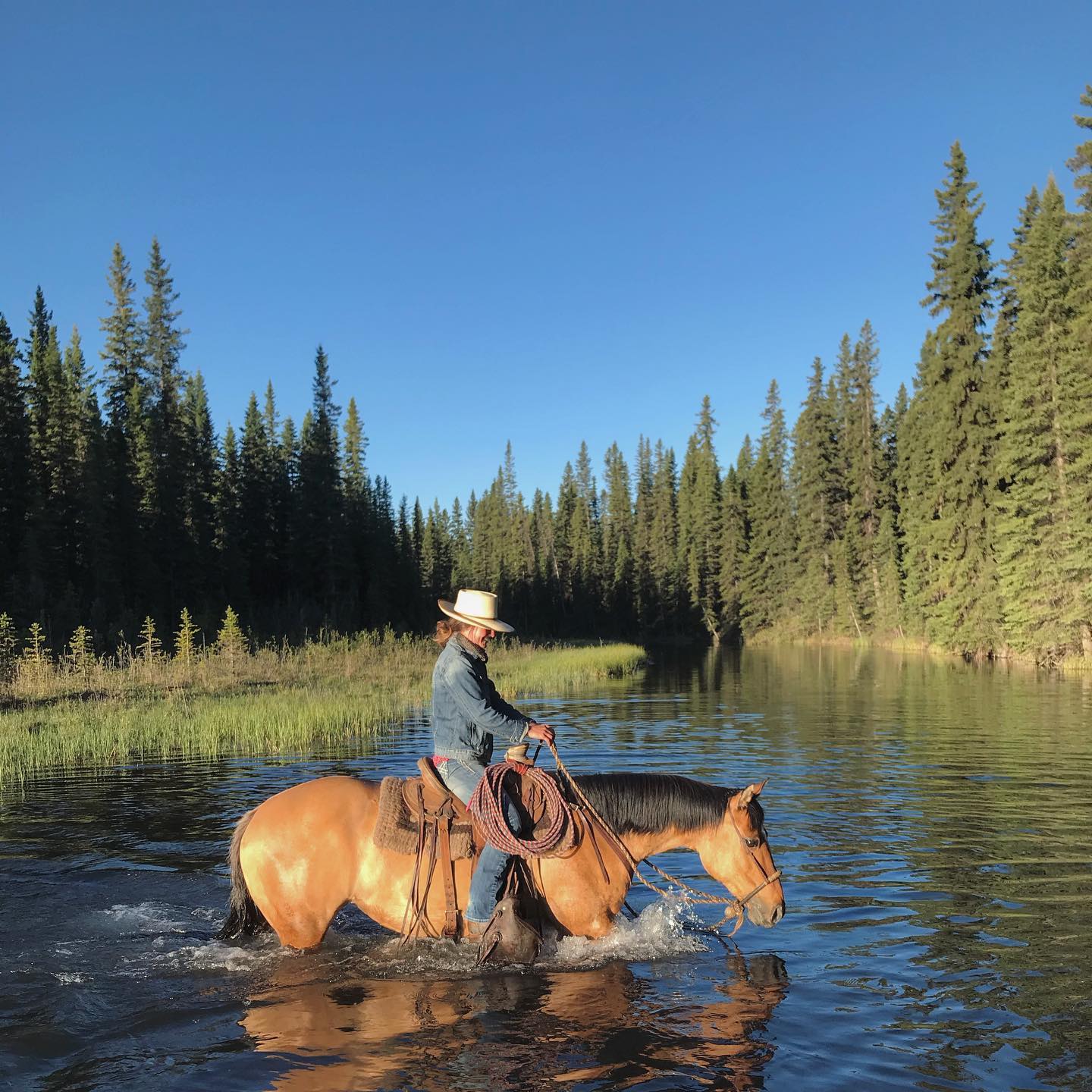 She also began to enjoy the way neighbors became family, the community aspect of branding, and the way a horse became the main tool in getting a job done.
In 2015, when Vanessa was working at a horse camp, she met Levi's brother and sister-in-law. The couple later invited her on a fall excursion, where Vanessa met her husband-to-be.
"Even Levi knew that they were trying to set us up," she said. "During that trip, for the both of us, something just clicked."
Over the next few months, spending more time together and with their friends; and being on some not-so-planned adventures, they both realized that they fit together.
"It seemed easy and natural, we both loved the Lord, would rather be riding than anything else, and had a heart for similar things," Vanessa said.
After dating for a year, the couple tied the knot—six years ago—at 6 a.m. on a hilltop, with the sun rising and close family and friends around.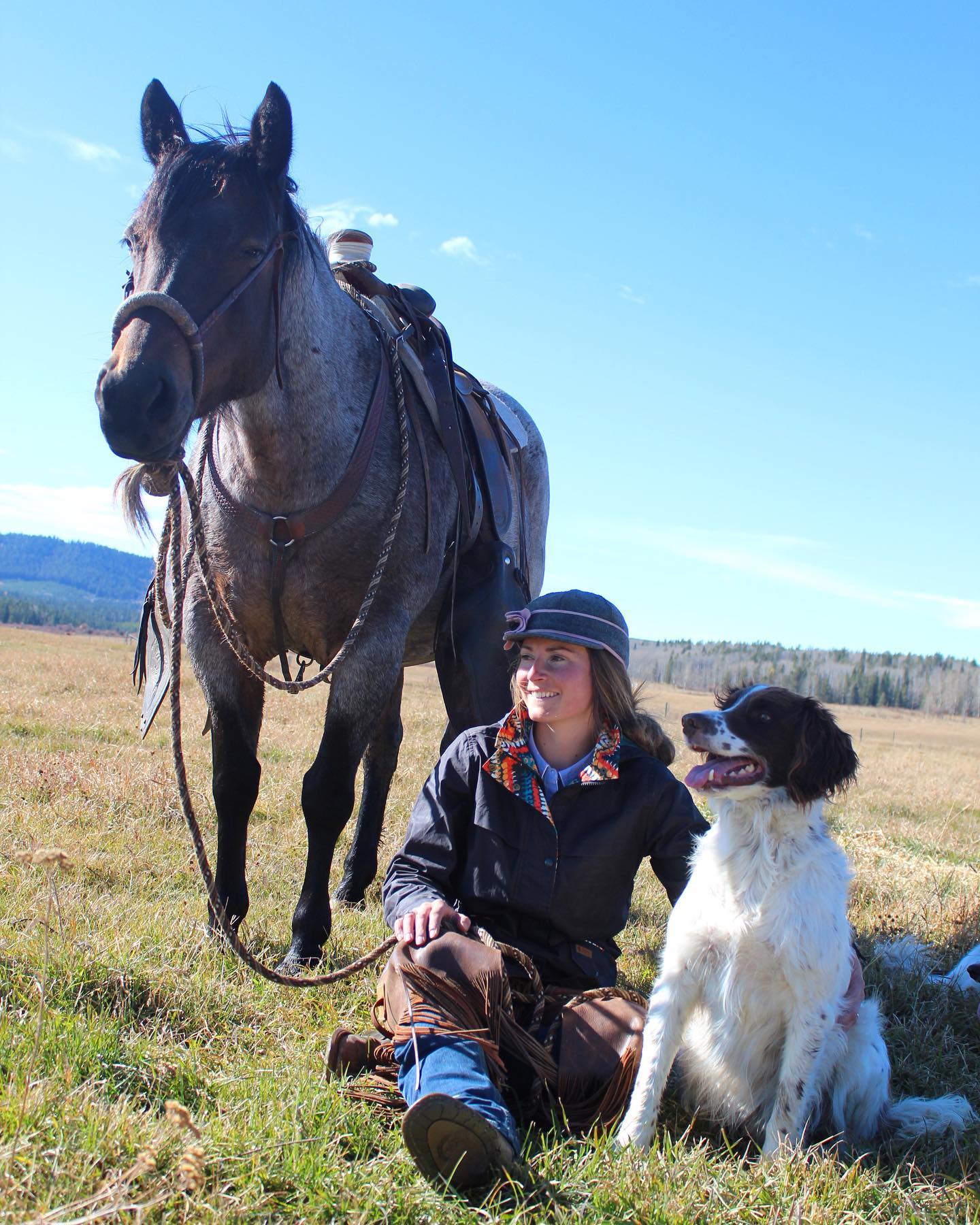 Life on the Community Pasture
Although Levi's parents never ranched, he did horse riding with his brother. He also grew up with grandparents who farmed and had cows, and would help his neighbors with their cows, learning the ropes of it all.
Before moving to Saskatchewan, Vanessa and Levi managed cattle in northern Alberta. Following that, for the next few years, Levi worked at a cow/calf operation.
With a keen interest in the idea of managing a community pasture, the couple then waited patiently for an opportunity to come by.
Today, they couldn't be happier, managing over 2,000 cattle—divided into five herds—on 22,000 acres with open prairies, trees, and a couple of big lakes.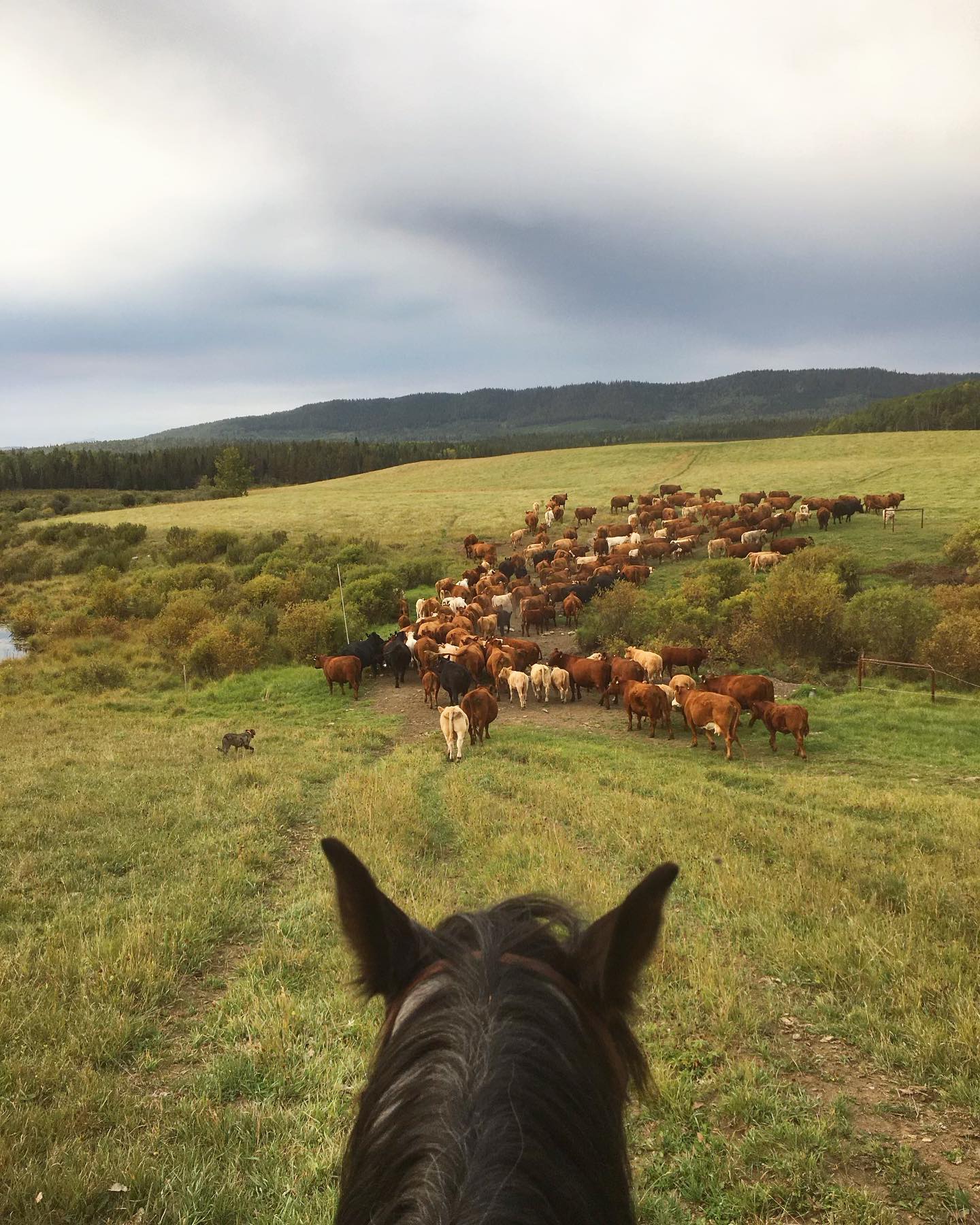 Describing the work on the pasture, Vanessa said: "In April, we start checking fences and getting the land, pens, and water systems ready for the cattle. In May, they start coming in, and then we start weekly checking each [herd], doctoring sickness, checking herd health, managing the grass, and making sure that the land is being stewarded and utilized well."
In the off-season, Levi does rawhide braiding and the couple together work on fulfilling orders for handmade leather goods such as keychains, fridge magnets, and cellphone holsters, which they sell on their Etsy store.
Besides cattle, the pasture is also home to seven horses, a mini horse for Jeremiah, three sheep, and four cattle dogs.
The animals are like family; two of the horses have been with the Oulds since they were colts, even being a part of their wedding day and both of Vanessa's pregnancy announcements.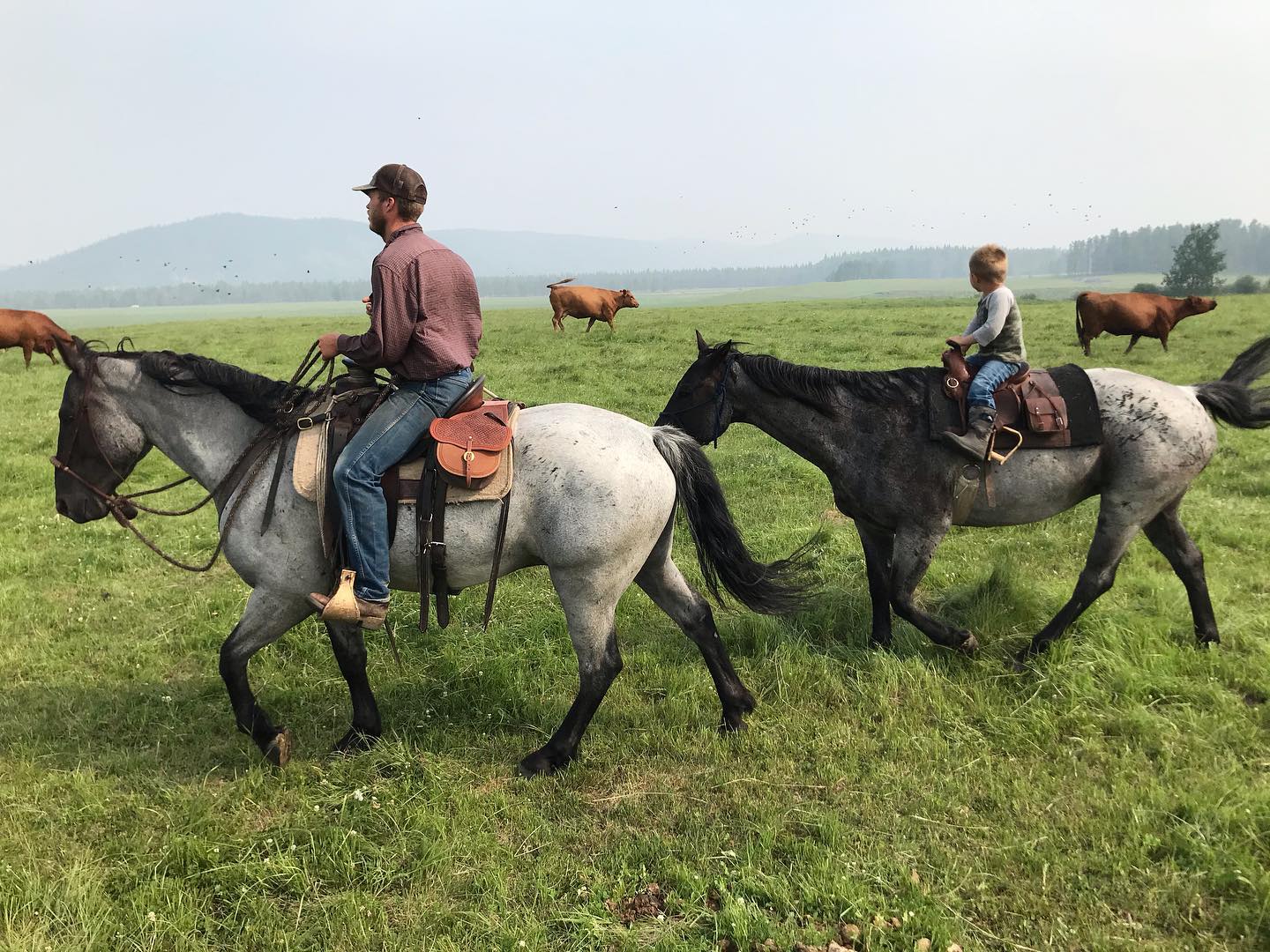 Since tagging along with their parents, the kids have inherited Vanessa and Levi's love for riding.
"Jeremiah rides by himself," Vanessa said, "and Hadley rides behind Levi or me in a 'buddy saddle' that attaches to our saddle."
The kids also help with various tasks. Jerimiah likes lending a hand with opening the gates, and when he is riding the pony, he is off quickly to help mark the roped cattle. He also helps with temping them and, when needed, giving them medication.
"Hadley is also eager to help and is a very determined back-seat driver, telling us where to go or what cow needs to be 'roped' because it's lame," Vanessa said.
The mom of two shared that daily challenges are few, and while it can be hard living far from extended family—with Vanessa's family living in Ontario, and Levi's family living in Alberta—she insists they "won't ever regret" having their children beside them on this adventure.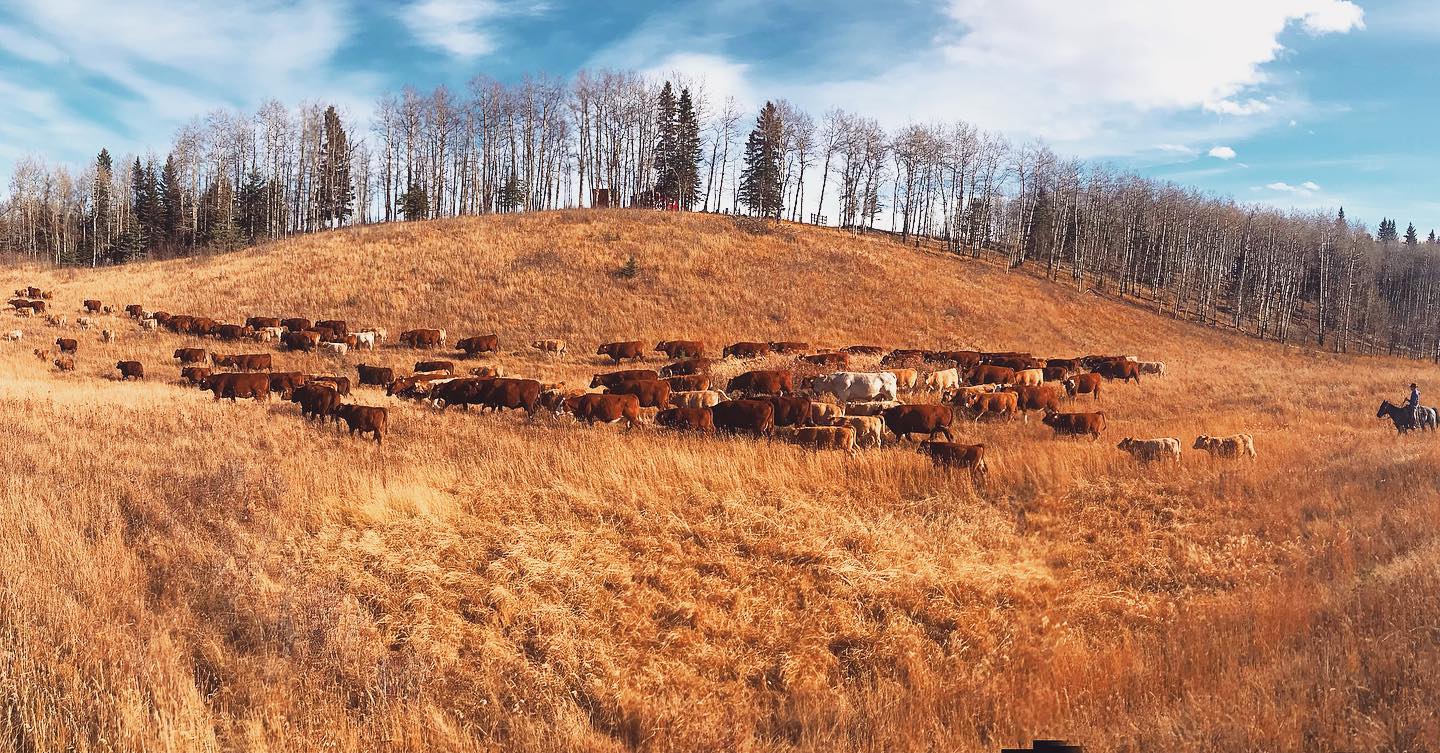 Learnings and Memories
Living in the community pasture has taught the family many things, such as how resilient children can be.
"They are eager to be a part of what you're doing if you'll invite them into it," Vanessa said.
The family have also learned how to work better as a team and be more strategic in getting jobs done.
Vannesa's key learning has been that "the best things don't come easy, but through a lot of hard work, perseverance, and cheerful hearts."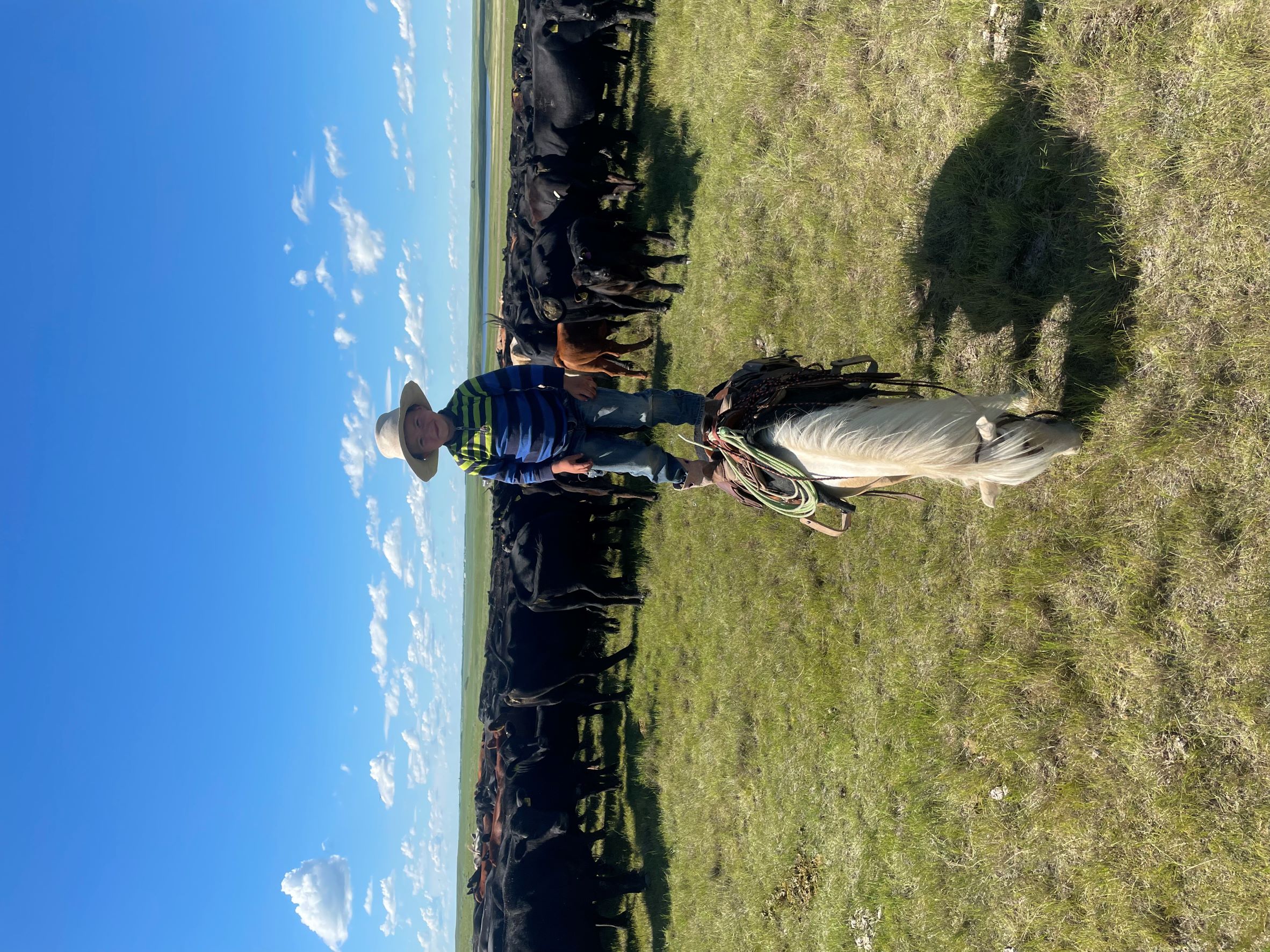 Among the many experiences they have had, Vanessa remembers a special day in spring this year when the family found a cow stuck in the mud near a natural spring and rallied together to free her.
She recalled: "We tried dragging her out with our horses, but she was suctioned in there pretty good and wouldn't budge. Levi rode a few miles back to where we had a Jeep parked with a winch and brought it back. He crawled into the mud and wiggled straps under the tired, stuck cow.
"We got her mostly up the ridge with the winch when the Jeep's battery died."
Luckily, the family had brought both their Jeep and truck that day. So with the cow still stuck, Levi rode all the way back to the truck, got the battery out and brought it back to the Jeep.
"We got the cow out after a couple of hours' work," Vanessa said. "It was a pretty good moment and a lot of thanking the Lord!"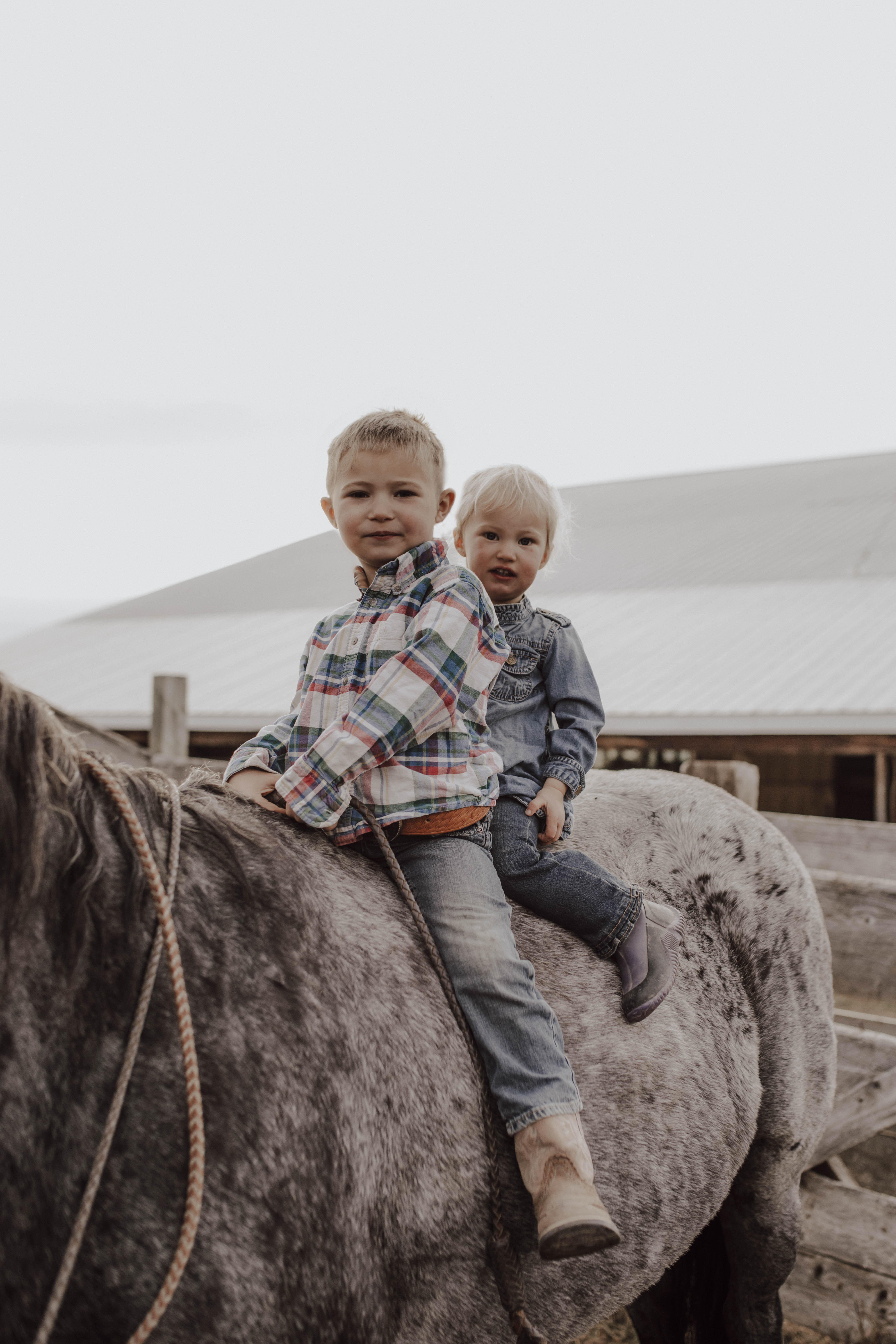 But the rescue didn't end there; the cow's calf needed help, having been deprived of milk during her mother's rescue and recovery. The family got both the cow and the calf back to the barn. They fed the calf milk replacer for the next few days and helped raise her body temperature.
The cow and calf have since recovered and are doing great.
"We named them Clover and Daisy, and the kids love when we get to go check their bunch and spot them," Vanessa said.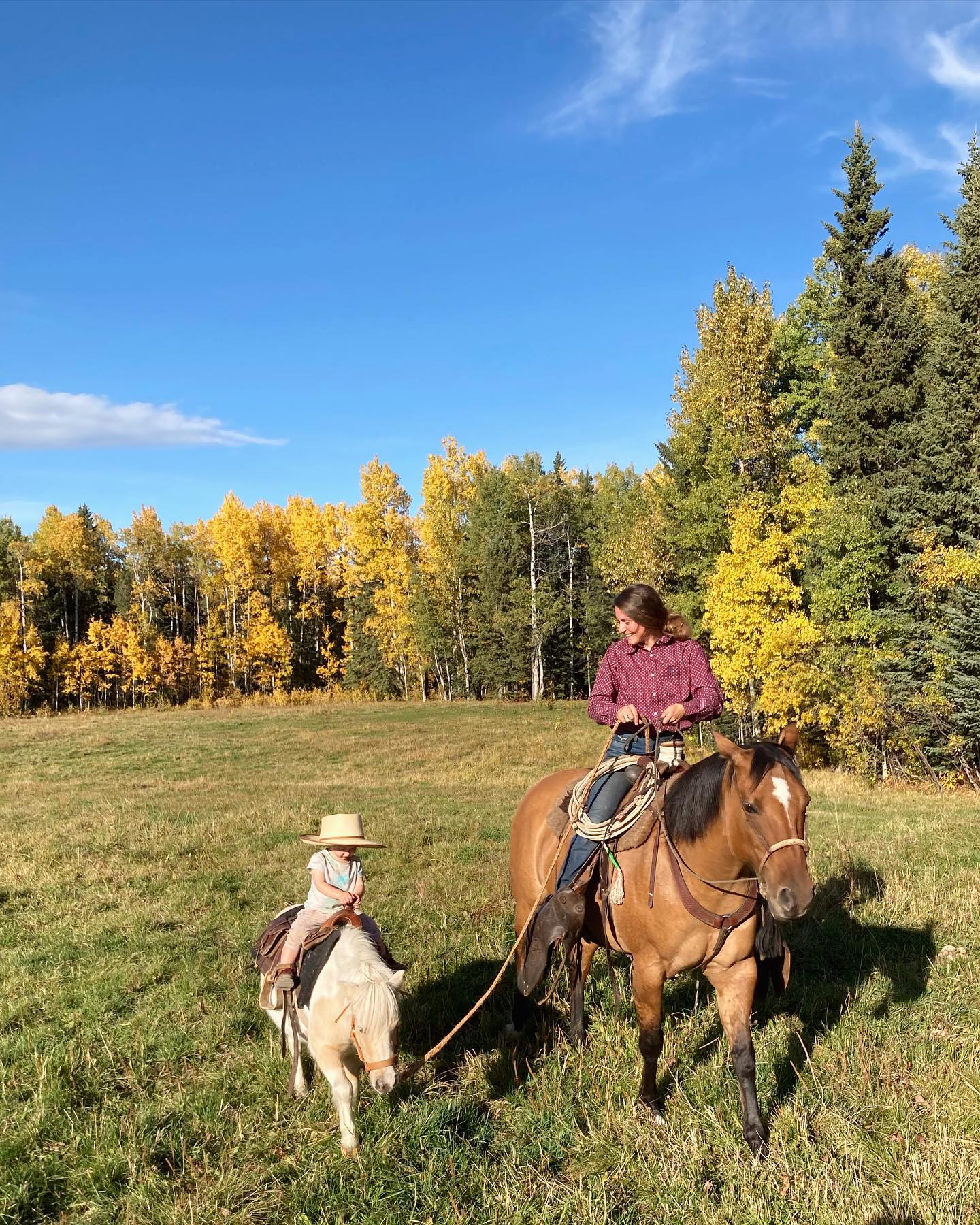 'We Can See God's Hand Through It All'
Faith plays a major role in the Oulds' life. Both Vanessa and Levi believe that they wouldn't have this job or enjoy the bliss on the community pasture if it weren't for God's grace.
Vanessa said: "We pray often throughout our days, and we can see God's hand through it all … I am a firm believer that God has us where we are with purpose and intention, and the grass isn't greener on the other side, but where it's being sown into and taken care of."
Since finding joy in the simple life, Vanessa has begun sharing her insights with the world via Instagram in hopes of encouraging others.
In one post, she shared her greatest lesson: "Happiness wasn't something chased after, but came from a 'simple life' of enjoying the things already in your life and not the 'things' you think you need to have to be happy."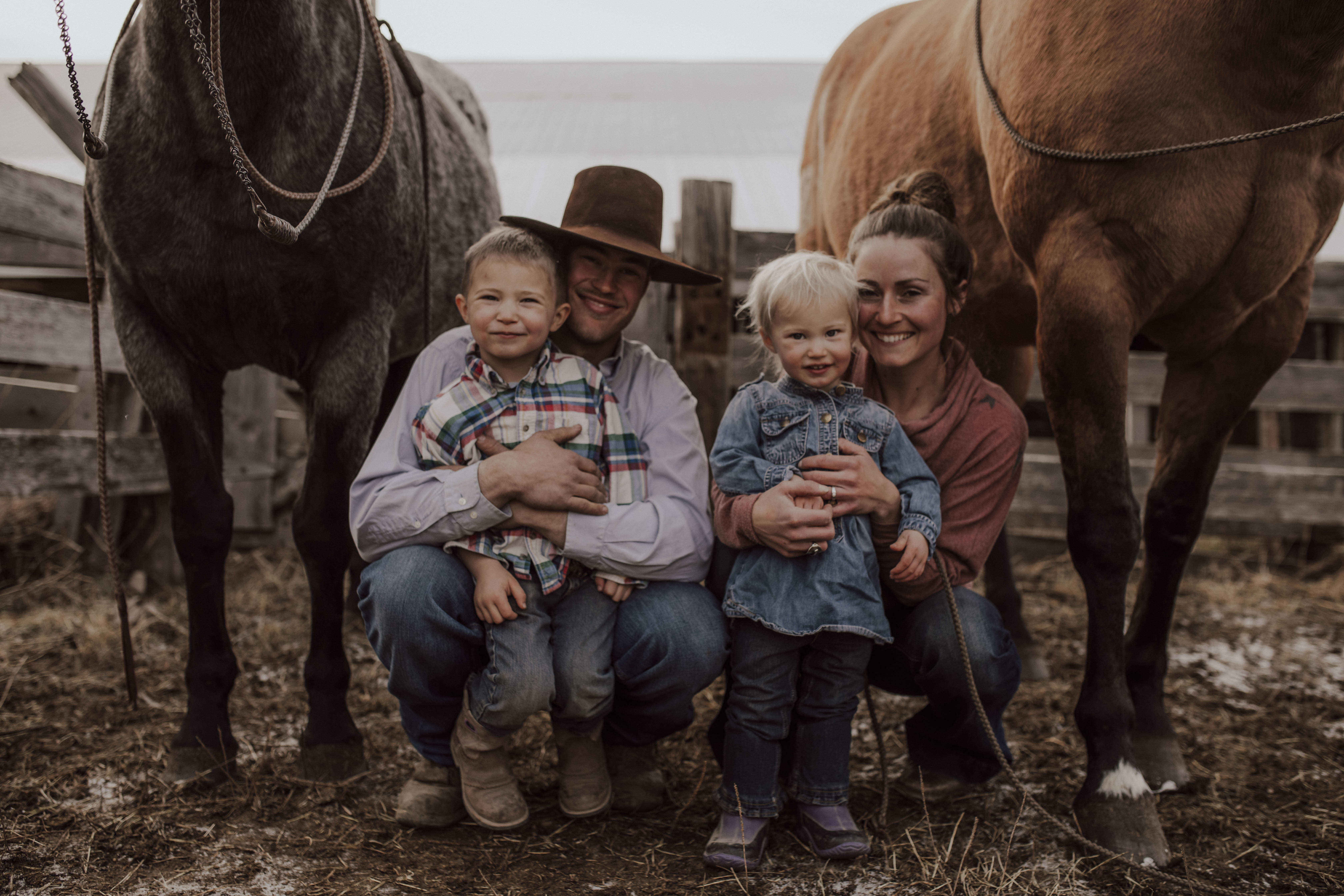 "To me, that is such an important truth our culture needs to hear," Vanessa told The Epoch Times. "To enjoy what God has already given us, to really enjoy Him, changes everything, because contentment is of that much more gain than something that makes us feel happy for a moment.
"It's not simply doing what makes you happy that truly makes you joyful, but rather living wholeheartedly in every aspect of your life: the good, the hard, the challenges, and seeing opportunity in it all."
Vanessa's best advice for others is to get started: find people to learn from, stay humble, and seek God.
"Our life is blessed, not simply because of what we have or what we get to do, but because of who we know—the Lord—and our hope is in Him. When things are hard, we know He holds it; when moments work out, we give Him the praise," she said.
"Look for ways to serve others. Start being a good employee, a good wife, and a better mom. By God's grace, do the best you can right where you are, and make each day worth living."
Share your stories with us at emg.inspired@epochtimes.com, and continue to get your daily dose of inspiration by signing up for the Inspired newsletter at TheEpochTimes.com/newsletter