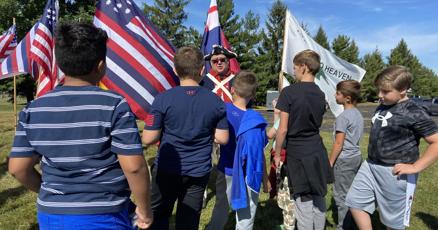 ANGOLA — American History Fest coming to Angola Friday and runs throughout the weekend.
The fest formerly known as Civil War Days has expanded to include other eras of American history featuring demonstrations, battle reenactments, historical characters appearance, patriotic music, historical dance and a candy cannon. Most events are free and scheduled at Angola's Commons Park and Selman Timber Frame Pavilion.
There are also events in Pleasant Lake on Saturday and Sunday.
Celebrations will kick off Friday at about 8 a.m. with school children visiting Commons at different times throughout the day.
Charlene Baumgardner, secretary of the planning committee, said the children will get a chance to go through different stations including biscuit-making and soldiers talking about their uniforms.
She said that each station usually lasts for 20 minutes, and a cannon fires to signal station changes.
"There will be a cannon that will fires every few minutes," said Baumgardner.
She said the public can come on Friday, too, along with the school kids, and Friday night
Live folk and classic rock band "Above the Fold" will be performing at Selman Timber Frame.
Soldiers participating in reenactments will stay in the park Saturday and Sunday nights, said Baumgardner.
"A lot of soldiers spend the night; they set up their tents, and they spend the night like they are in [the camp]," she said. "I think it's going to be kind of chilly this weekend."
Saturday's reenactments will start at 10 a.m. with the arrival to downtown Angola President Abraham Lincoln played by Murray Cox from the Association of Lincoln Presenters. Murray has been presenting Lincoln since 1985 trying to inform people on parts of Lincoln's life which are not widely known.
An hour later Michael Crutcher will appear as Frederick Douglass at Selman Timber Frame at the same time with a shooting contest, and at 12:30 Ladies for Liberty band singing will take the visitors back to the World War II era.
A Ladies' Tea at Selman Timber Frame at 1 p.m. will feature women dressed "nice for the tea" in the clothes of the time explaining to people how they would have had to dress in the past, said Baumgardner.
She said that American Legions through northeast Indiana greatly support the event, and that American Legion Commander is supposed to be at the fest on Saturday before the battle, and that someone representing the legion should be there on Sunday too.
"They come and do a five-minute talk at the most, and we do the Star-Spangled Banner," said Baumgardner.
Civil War skirmishes reenactment is scheduled for 2 p.m. followed by another Abraham Lincoln appearance, and this time at Selman Timber Frame at 2:30 p.m. American Revolution in the West lecture and re-enactment is scheduled for 4 p.m.
"The West is not like California," said Baumgardner. "The West at that time was Vicksburg, which is Mississippi, and Missouri, and that area."
Saturday reenactments finish at 5 p.m., and the period dance will start shortly at 6:30 at Selman Timber Frame, and the public is invited to join. Baumgardner said that it is going to be round dancing and square dancing, and although it would be a couple dance, "you'd change couples through the dance."
Saturday night fire and further skirmishes reenactments will happen in the dark. Sunday celebrations will start at 9 a.m. with Abraham Lincoln's next appearance. At noon the Auburn Community Band Pavilion will perform "1812 Overture" and other patriotic music accompanied by live cannon fire.
"It doesn't belong to the band, it's the canon that the reenactors bring," said Baumgardner.
Some of the events like cricket play on the park's ball field will run throughout the weekend, and a history train ride is going to be one of them. The train departing from Angola will take the guests on a trip back to the 1940s for a living history experience with World War II reenactors, musical entertainment, classic automobiles, and food vendors.
Another weekend-long event is a Civil War medicine display featuring the medical instruments of the time and the organizers explaining what people back then thought about medicine.
"A lot of things we use today in medicine and in wars started in the Civil War," said Baumgardner.
She said that all the shooting planned will be blank but advised to stay away from the cannon because of the shooting force. Baumgardner said that all the cannons used for the fest are real, but they are not always original to the times of the reenactments.
The only canon that is not real at American History Fest in Angola will be a candy cannon shooting candy.
"They shoot candy up in the air, and then they release the children to go pick it up," said Baumgardner.
For more information or to see the full schedule, visit the Angola American History Fest official website at americanhistoryfest.com/?page_id=360.