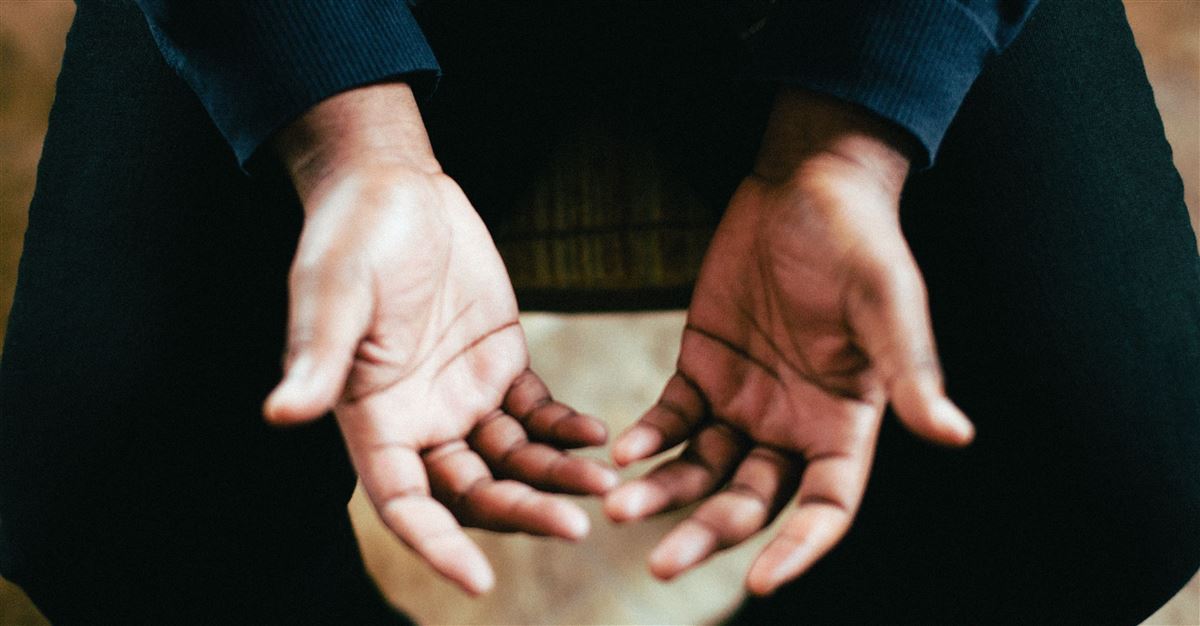 A simplistic definition of grace is "God's Riches At Christ's Expense." Grace shines best when accompanied by reconciliation. We all have relationships that need some measure of reconciliation. Everyone wants more grace. Offering more grace is the challenge. But genuine reconciliation requires grace. Let's look today at how God thinks about grace.
"Then Peter came to Jesus and asked, "Lord, how many times shall I forgive my brother or sister who sins against me? Up to seven times?" Matthew 18:21
I love Peter. He doesn't just point out a problem but proposes a solution. For example, Peter says, "Seven sounds good to me, Jesus, because I'm at six with somebody right now – and one more is all I got."
Have you been there – when you are about done with forgiving again and again? Is someone on your last nerve and already used up their last chance? In the next verse, Jesus responds, "Jesus answered, "I tell you; you must forgive him more than seven times. You must forgive him even if he wrongs you seventy times seven." Matthew 18:22 Wow! 490 times? And then Jesus elaborates:
Then Peter came to Jesus and asked, "Lord, when my fellow believer sins against me, how many times must I forgive him? Should I forgive him as many as seven times?" Jesus answered, "I tell you; you must forgive him more than seven times. You must forgive him even if he wrongs you seventy times seven. "The kingdom of heaven is like a king who decided to collect the money his servants owed him. When the king began to collect his money, a servant who owed him several million dollars was brought to him. But the servant did not have enough money to pay his master, the king. So, the master ordered that everything the servant owned should be sold, even the servant's wife and children. Then the money would be used to pay the king what the servant owed. "But the servant fell on his knees and begged, 'Be patient with me, and I will pay you everything I owe.' The master felt sorry for his servant and told him he did not have to pay." "Later, that same servant found another servant who owed him a few dollars. The servant grabbed him around the neck and said, 'Pay me the money you owe me!' "The other servant fell on his knees and begged him, 'Be patient with me, and I will pay you everything I owe.' 
"But the first servant refused to be patient. He threw the other servant into prison until he could pay everything he owed. When the other servants saw what had happened, they were very sorry. So, they went and told their master all that had happened. "Then the master called his servant in and said, 'You evil servant! Because you begged me to forget what you owed, I told you that you did not have to pay anything. You should have showed mercy to that other servant, just as I showed mercy to you.' 34 The master was very angry and put the servant in prison to be punished until he could pay everything he owed."
This parable offers excellent insight into the meaning and power of grace. Peter begins by saying, "All right, now, what's the bare minimum? What do we have to do?" And he lowballs it. He says seven, but Jesus said, "Seventy-seven times." So, in other words, a lot more! In other words, the number of times we must forgive is much more significant than any number you think. He goes on, "As a matter of fact, let me help you. Let me give you a vision of what it means." And then Jesus gives us the three steps of grace.
1. Receive Grace
It's hard to talk about grace for anybody who has abused, offended, or hurt me if I haven't received grace myself at first. So, we have to learn how to receive grace.
Here is my grace story. I remember when the economy tanked in 2008. When we moved to Kansas City, we still had a condo in Charlotte that we could not sell. We paid almost $150,000 for it, but when the real estate market crashed, it was worth less than $100,000. For six years, we made payments on that condo in Charlotte and rent on our condo in Kansas City. We were paying double the rent!
After six years, I contacted the bank in Charlotte and said, "I can't keep doing this. Can you help me?" Over the next two months, they worked out a plan to forgive what I owed through a short sale. The bank sold the condo at auction for what they could get for it – at that point, $113,000, and forgave the $30,000 I still owed. They showed me grace!
All God's children need grace. And if you've ever received the grace of God, it's just a sense of, "I didn't deserve it." So, it's not that Jesus says, "Okay, I'm going to give you a discount." Instead, Jesus says, "I am going to pay your bill."
This mindset is how the New Testament describes God's grace nature:
"He is so rich in kindness and grace that he purchased our freedom with the blood of his Son and forgave our sins." Ephesians 1:7
God is gracious by nature. His followers have received his grace. Therefore we, his followers, should major in grace. We cannot offer grace until we have received the grace of God. Grace realizes Jesus took our place. Punishment is what we deserve, but Jesus took our place. So, we've got to receive the grace of God.
2. Rehearse Grace
Then comes the moment that messes us all up. The servant who was forgiven so much left that moment and went to see a servant that owed him less money.
Here is the second thing I learned about grace in this passage. We not only have to receive grace, but we've got to rehearse grace because we quickly default back to a perverted vision of what grace is. We don't fully realize what grace is, so we have to rehearse it. Grace is not natural to us. I don't know about you, but I default back to merited favor. I default back to deserved grace. I ask, "Have they earned grace" or "Have they earned another chance."
"God saved you by his grace when you believed. And you can't take credit for this; it is a gift from God. Salvation is not a reward for the good things we have done, so none of us can boast about it." Ephesians 2:8-9
We have to rehearse grace when we fail. And we must rehearse the grace of God when we succeed because we are doing it all by the grace of God. So, we must practice this thinking, or else we will think that this is deserved favor we're walking in.
Rehearsing grace: God gives me grace when I am doing good or failing. I give others grace when they are doing good or failing.
You could tell this servant didn't have time to rehearse it. Have you ever gone to your child's school program, and you can tell which kid missed every rehearsal? He is all over the place and totally out of step. He didn't go to any rehearsals.
We need to receive grace. You need to rehearse grace.
3. Release Grace to Others
God's grace is a gift we must give it away. When it comes to grace, we need to be a freeway, not a cul-de-sac. Cul-de-sac grace will get us in trouble every single time. Notice the frustration and the anger of God.
"In anger, his master handed him over to the jailers until he could pay back all he owed. This is how my Heavenly Father will treat each of you unless you forgive your brother or sister from your heart."
Notice, it's not our grace to release. That man was asking for mercy. The grace that he should've given the servant wasn't his grace. And it's not our grace to release. It's God's grace through us. We must choose to say, "I'm not giving them what they deserve. I'm giving them what God gave me."
Love looks like grace. Economically, he was forgiven 10,000 bags of gold. He was empowered economically and should have been able to forgive this smaller debt someone owed him.
God is talking about a grace we can do. Don't get it twisted. We don't get a pass. We can do this, but are we choosing to do it?
Here is the challenge for all of us. Practice double grace. The grace God has given us. Plus, the grace we give to others. Not the grace that we've mustered up on our ability. It's always got to be a double grace. God never asks us to extend anything to anyone out of our resources and our capacity because he knows we're in a deficit. We're depleted and have nothing to give. But he's asking us to do this, "Out of the abundance of grace that I have provided for you, now you give grace." So, it's a double grace.
Double grace is God's gift to us and God's grace through us. Those are the only options we have. That's how grace lives. James 4:6 tells us God gives grace generously. We have received grace generously. We release grace in the same way. We have to walk and live in double grace. If we think about this for more than five seconds, we'll immediately say, "All right, Holy Spirit, I need you because ain't no way I'm going to pull this off." Double grace.
We used to sing a song in my church when I was a child. It's one of my favorite hymns. "Jesus, Jesus, how I trust him, how I prove him o'er and o'er. Jesus, Jesus, precious Jesus. Oh, for grace to trust him more." I love that last line. "Oh, for grace…" I interpret it as, "Oh, I need grace so I can trust him more."
We are grace people.
• We receive God's grace.
• We rehearse God's grace.
• We release God's grace.
Photo credit: ©Jeremy Yap
Video credit: ©Unsplash, Soundstripe
Mary Southerland is also the Co-founder of Girlfriends in God, a conference and devotion ministry for women. Mary's books include, Hope in the Midst of Depression, Sandpaper People, Escaping the Stress Trap, Experiencing God's Power in Your Ministry, 10-Day Trust Adventure, You Make Me So Angry, How to Study the Bible, Fit for Life, Joy for the Journey, and Life Is So Daily. Mary relishes her ministry as a wife, a mother to their two children, Jered and Danna, and Mimi to her six grandchildren – Jaydan, Lelia, Justus, Hudson, Mo, and Nori.